I'm a massive Game of Thrones (GoT) fan so exploring how this show is influencing fashion and interiors was a very fun exercise for me. The costume and set designs on GoT are of such a high quality they are truly inspiring and I'm ruined for any other shows mirroring this era and style. The HBO series could have been at risk of simply appealing to a few hard-core nerds; however it has broken that stereotype and engaged the masses worldwide. There is even a Tumbler account dedicated to GoT interiors called
Home of Thrones
a useful find for me in researching for this post. Even Vogue got on board the GoT wave and released this article
"What if Game of Thrones had 2014 Fashion?"
The shows influence is not just reaching fashion, but it has had a dramatic influence on popular culture for example the names Khaleesi and Arya have become very popular baby girl names in many countries.
Winterfell
The various realms offer different aesthetics, from Winterfell in the cold north, down to the warm South of Kings Landing to wherever Daenerys is roaming in the desert (I get a bit lost there), different locations offer variations on the historical Gothic, European, Medieval and Middle-Eastern style of decor and dress. Let's start in the North with the Winterfell home of the Starks. The lovely Catelyn Stark had a lot of strength and grace, it was so sad when her character was executed at the infamous red wedding as she was one of my favourites. In terms of fashion and decor when emulating Winterfell think fur, wool, leather, dark and subdued colours, stone masonry, candles and goth rustic style furniture.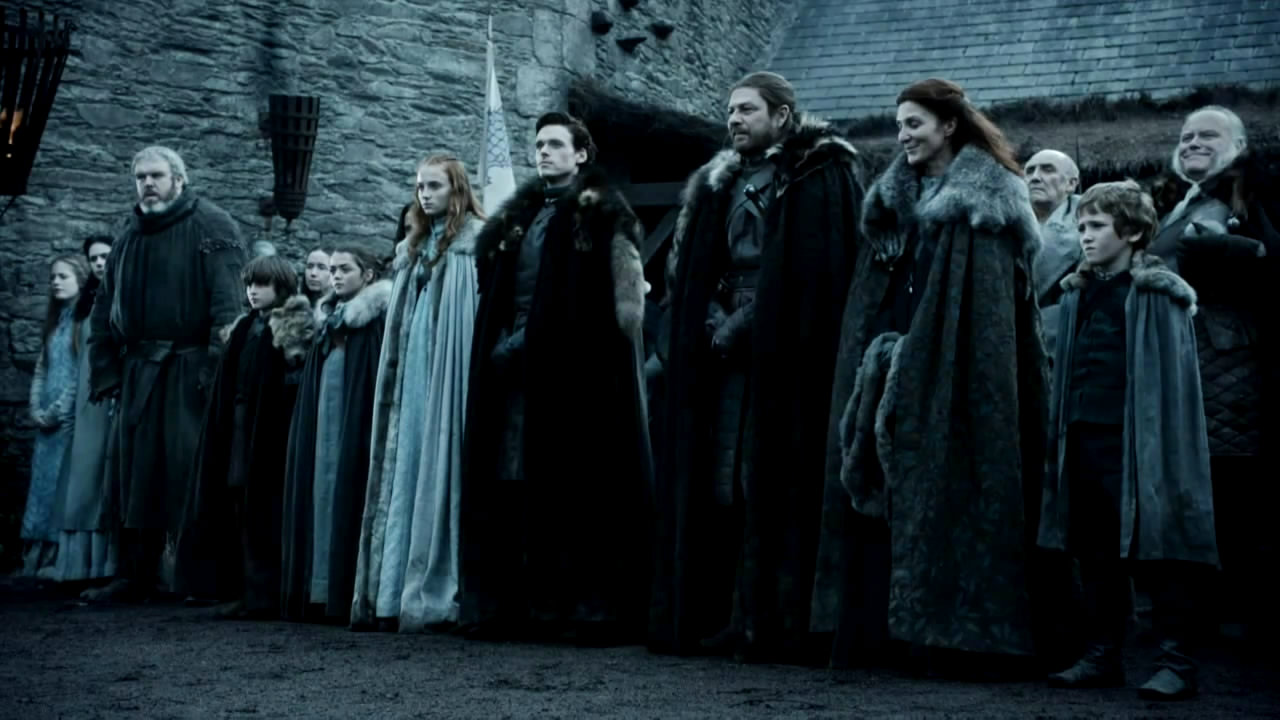 The Starks of Winterfell - Season 1. Fur and full-length capes are a must have in the cold realm.
Image via gameofthrones.wikia.com
That red hair always looked lovely with her emerald green gowns and scarves. The fur and leather accents add another level of class.


Image via supermomx3wordpress.com
Winterfell fashion - The darkside. Gothic style with black fur, candles, rustic table and chairs.
Outfit image via usmagazine.com Interior image via pinterest.com
Winterfell fashion - three quarter sleeves with leather gloves look very classy. The heavy weight grey wool dress is a great way to stay warm in winter.
Outfit image via style.com Interior image via trendener.se
Brienne of Tarth was sworn to serve Catelyn Stark and protect her daughters. She has a very masculine style and quite ahead of her time in terms of a feminist, women can kick ass and swing swords, girl power sort of way.
Channeling Brienne of Tarth is the military style with the double breasted jacket, high boots, and shiny metallic buttons.
Image via voguemagz.com
Jon Snow originally from Winterfell is the bastard son of Ned Stark and now lives in the most miserable place in Westeros, The Wall. Living here you have to think serious layers and hard core outerwear with a generous dose of fur for survival. But Jon still manages to look good as arguably the hottest male character in the TV show. His love story with the Wildling woman Ygritte didn't end well with the whole shooting him with arrows as he ditches her thing, and then the dramatic wall battle finish.
The biggest mainstream fashion influence I've noticed is the amount of faux fur in fashion at present. Especially the fur vest, seen everywhere right now. Not stuck in traditional browns and blacks, fur can come in all colors including pastel blues and pinks.
My favorite fur tone is the multi-shades of grey. This coat is very 80s in terms of the strong shoulders and is nicely accented with a fitted swing skirt. Fur in a bedroom easily gives a warm and comforting feel to your night time sanctuary.
Fashion image via Passion for Prying Interior image via Matter of Style Blog
I wouldn't really go for a pink fur coat like this, but this woman has styled it so well with the black leather skirt and white collared shirt, it looks fantastic. Also in this interior image, there is a lot going on with seemingly garish and opposing styles, but the pink velvet bed goes so well with the fur throw giving the whole room a luxurious, cozy and opulent feel.
Fashion image via Passion for Prying Interior image via Matter of Style Blog
The natural brown tones are more traditional and timeless. This long vest is nicely complemented with the skinny leather pants.
Fashion image via Passion for Prying Interior image via Freedom Furniture
I'd like to think that Ygritte and Jon Snow could live here, you know if they had metaphorically stayed in the cave, I'd imagine they'd decorate their cave like this. Log cabin style with stone masonry fire place, Gothic chandeliers, and of course fur.
Image via houzz.com
Kings Landing
Kings Landing is the capital city of Westeros' Seven Kingdoms. Of all the kingdoms to live in this seems the most appealing with the warm climate, beautiful gardens, food abundance and wealth.
A key character here is Cersei the Queen. She plays a great baddie, in a nutshell she is guilty of being an incestuous manipulative cheater, raising a horrible monster King in Joffery, and being a truly evil older sister. But hey we're not here to judge her character but her style and in that sense it's pretty good. She rocks the braids which are also very hot right now and her Queen glamour gowns are always figure hugging and flattering.
If Cersei was to walk the red carpet in 2014 I think she would wear something like this dress that Blake Lively looks absolutely gorgeous in. She even has the long braid in a style updated for the 21st Century. Kings Landing decor has a middle eastern, Moroccan aesthetic in terms of the luxurious, ethnic and summer time feel.
Fashion Image via Tumbler Interior Image via Decor Tips
Kings Landing is also the home of the coveted Iron Throne. I don't think its particularly attractive, but I am a fan of a nice feature chair.
The giant garish Iron Throne, could provide some interest and a focal point for a living area.
Image via warosu.org
Have your own throne at home. Remember if you have a feature chair ensure there is enough space around it to let it breathe and have the presence it deserves.
Image via ayraid.blogspot.co.nz
For a more modern throne feature chair try this laser cut plywood high back peacock chair by Ferruccio Laviani.
Image via Charleston Grit
Sansa Stark and Margaery Tyrell in Kings Landing.
Image via fanpop.com
Margaery knows that her power is in diplomacy and seduction and essential to her tool kit is her hotness. So she works it with sexy outfits with keyhole peeks at her skin. It's modest by today's standards but none the less eye catching and a bit scandalous for these GoT times. I'm sure everyone in the realm copies her style just as all of those ASOS dresses sell out within seconds of Kate Middleton being seen wearing them.
Fast forward to the royals of 2014 and I couldn't have imagined a more perfect comparison to Margery's style than Kate Middleton's gorgeous teal gown by Jenny Packham that she wore to the London Olympic gala. Margaery Tyrell would totally wear this, the lovely teal color and capped sleeves are elegant but still sexy with a low V-cut neckline. Kate is also even channeling the GoT braids.
Image via Catwalkqueen
Where-ever Daenerys is
Daenerys Targaryen, Khaleesi, mother of dragons, freer of slaves, firm (don't mess with her she will slay your ass) but fair ruler who I believe is going to be sitting on that iron throne soon. She is by far my favorite character who is going from strength to strength and is constantly on the move through various cities that all seem to be warm, sandy places of wealth and gold.
Her style is Grecian goddess like but quite tailored and structured. Rocking the platinum blonde braids and even throwing back to the dress over trousers phase which was big here in the 90s. I wanted to explore how her style could be reinterpreted for a modern 2014 woman.
Daenerys Targaryn in the teal blue grecian goddess style dress. Miranda Kerr beautifully brings this look into present day 2014 red carpet style. I also think the red lippy perfectly accents this soft pastel colored flowing gown.
Danerys image via gameofthrones.wikia.com Miranda Kerr image via popsugar.com.au
Okay so you may be thinking that this comparison is a bit of a stretch, but essentially Daenerys is wearing a halter crop top with a skirt over pant combo that gives her a vulnerable yet strong and masculine look. This image of Kendall Jenner captures that crop top style paired with the three quarter pant it keeps it sexy yet strong. The monochrome color palette also gives the look a polished feeling of masculinity.
Daenerys image via pl.lodiogien.wikia.com Kendall Jenner image via cambio.com
The dress over pants is not a very common look today, but Emma Watson does it in I believe the most stylish way possible in this red carpet outfit.
Daenerys image via wetpaint.com Emma Watson image via thenewstrack.com
Right now Daenerys is somewhere in a stone pyramid. The decor and architecture is a combination of Greek, Italian, Moroccan and Gothic styles.
Image via gameofthronesstyle.com
This is definitely a Khaleesi worthy shower. High ceilings and over sized space with rustic stone masonry, it has a very expensive, retreat feel.
Image via homeofthrones.tumblr.com
Great set design, again the Moroccan desert style comes through with gold accents.
Image via gameofthronesstyle.com
A touch of ethnic style with the tribal art and accessories and the Moroccan rug are modernized with the ply-wood paneling and floor to ceiling glass. This beautiful desert home brings a GoT influence into the 21st Century. I can imagine Khaleesi living here with her Dragons playing in the desert.
Image via redesigningsarah.com
This beautiful interior reminds me of Khaleesi as this screen can be an interpretation of the dragon skin, the star shapes reflect that Middle-Eastern style and the opulent size is luxurious and regal.
Image via interiordesignfiles
I'm excited about the final episode of the season tomorrow, happy watching everyone, and try to take in the wonderful costume and set design. I'm personally hoping that Daenerys and her dragons play a key role in this episode, but we will see...